Aoraki/
Mount Cook
Mount Cook
Mount Cook is New Zealand's tallest Mountain, standing 3754 metres (12,316 ft) above sea level. It used to be the world's 37th most prominent mountain standing, until the eastern face of its northern peak fell off in 1991. The Mountain was renamed to Aoraki/Mount Cook in 1998 following a settlement between The Crown and local Maori tribe Ngai Tahu, honouring the original Maori name meaning "Cloud Piercer", and continues as the only example of a conjoint name in the South Island where the Maori name is expressed first, signifying the mountain's national cultural importance.
Aoraki/Mount Cook is located in the Southern Alps amongst over 140 peaks higher than 2000 m, 19 of which are over 3000 m, that make up the Aoraki/Mount Cook National Park, and is part of Te Wahipounamu UNESCO World Heritage Area.
Mount Cook has a high annual quota of rainfall of around 7600 mm (300 in). This causes temperate rainforests in the lands below the mountains, but the Mount Cook area is above the treeline, so most of the plants are small alpine shrubs and wild flowers, including the Mount Cook Lily, the largest buttercup in the world which is endemic to New Zealand. Glaciers cover 40% of the National Park.
The area is abundant in walking tracks, with walking trails leaving Mount Cook Village taking anywhere between 10 minutes and 4 hours. There are also day tramps to some of the area's alpine huts, and for the more experienced, mountain climbing is widely popular, with guides are available. During winter ski excursions to New Zealand's longest glacier, the Tasman, are a unique opportunity to get on the ice.
As for accommodation, stay at the luxury Hermitage Hotel, or the YHA Backpackers. Alternatively, the lakeside settings of Twizel and Tekapo provide excellent bases from which to explore the region.
---

Featured Mount Cook Events
---
Tour Mount Cook

Tour Mount Cook Area
Aoraki Court Motel
- Motel.
Aoraki Court Motel is a modern accommodation located in Aoraki Mount Cook National Park. All units feature great views...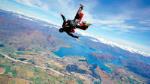 3-Hour Tour From Wanaka: Tandem Skydive From 12,000 Feet
- Skydiving - Wanaka.
Starting from $349.00 per person
.
Enjoy a 20-minute scenic ride to altitude on this 3-hour sky diving adventure from Wanaka. Strap yourself to a...