Mount Cook Street View
Use the - and + on the first map to zoom in and zoom out.
Drag to position on the area you are interested in.
Drag the yellow peg man figure and blue lines will appear on streets that have a Street View.
Drop the yellow peg man figure on a blue line to get a Google Street View of that street.
The street view is shown beside the map or below the map.
Mount Cook Central Map
Mount Cook Driving Directions
Mount Cook Maps
Mount Cook Satellite View Maps
Tour Mount Cook

Tour Mount Cook Area
YHA Mt Cook
- Hostel.
Situated Among the Southern Alps, YHA Mt Cook features views of Mount Cook, and is 200 metres from Sir Edmund Hillary...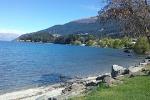 Private Tour or Transfer to Queenstown
- Private Tour - Christchurch.
Starting from $1000.00 per person
.
Priced for 1-3 people. This private tour and/or transfer takes you through some spectacular scenery. From Christchurch...