Mount Cook Street View
Use the - and + on the first map to zoom in and zoom out.
Drag to position on the area you are interested in.
Drag the yellow peg man figure and blue lines will appear on streets that have a Street View.
Drop the yellow peg man figure on a blue line to get a Google Street View of that street.
The street view is shown beside the map or below the map.
Mount Cook Central Map
Mount Cook Driving Directions
Mount Cook Maps
Mount Cook Satellite View Maps
Tour Mount Cook

Tour Mount Cook Area
Aoraki Mount Cook Alpine Lodge
- Lodge.
Situated in Mount Cook National Park and offering beautiful mountain views, Aoraki Mount Cook Alpine Lodge is a...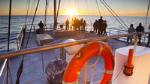 Milford & Stewart Island Flexible Travel Pass - Queenstown return
- Multi-day Tour - Queenstown.
Starting from $295.00 per person
.
Be prepared to be blown away by the places you will go and the things you will do while travelling on our super...